Cisco collaborates with Jaipur and calls it the first lighthouse city in South Asia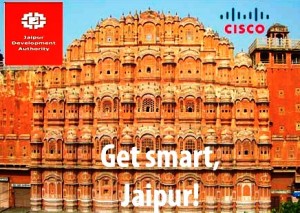 Cisco announced Jaipur to be the first smart and connected community 'Lighthouse City' in South Asia. Cisco Lighthouse City status credential is assigned to a select list of cities all over the world. This development will help Jaipur gain access to Cisco's huge global network and channel program capabilities. The Lighthouse City engagement will be enabled through a joint working group, which will focus on deploying next generation technologies to impact citizens and society. Jaipur now joins the league of Cisco Lighthouse Cities globally such as Hamburg (Germany), Barcelona (Spain) and Adelaide (Australia).
Cisco is partnering with Jaipur to develop smart city infrastructure that will improve the efficiency and quality of services for sustainable urban development. This will lead to management of city operations and delivery of new services to citizens. Cisco is also in talks with other technology companies such as Qualcomm Technologies Inc, General Electrical and 3M India Ltd to launch an Innovation centre in Jaipur.  The centre will be housed and operated by Genpack and help to speed up co-innovation of Internet of Everything (IoE) based solutions. The Innovation Centre will be hosted by Jaipur Development Authority (JDA) and also team up with startups, developers, government agencies, and academic communities.
For example 3M's common technology platforms, diverse and unique products in the areas of Public Safety & Security, Smart Transportation, Smart Grids and Smart buildings can contribute substantially to offer practical solutions to urban problems. Even Qualcomm is committed to the advancement of smart cities in India and address complex challenges that Jaipur is facing. The role of wireless technologies, edge processing and machine learning can help empower such cities to make them more efficient, livable and sustainable. Genpact will also provide a number of services and solutions to help clients operate smarter from Jaipur city. It will provide IoE solutions for industrial asset performance using analytics combined with its disruptive Lean Digital SM approach that facilitates the effective use of digital technologies all the way from the front, middle and back end of its clients' operations.
Jaipur city's association with Cisco will set an example for other cities in South Asia. It will gain access to Cisco's huge global network and channel program capabilities which will help in economic and social transformation.
Leave a Comment