VOIP services can change your perception to do business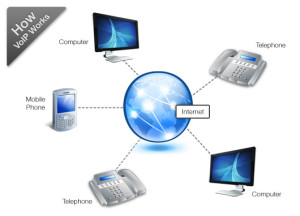 It might be all over the news these days but VoIP (Voice over Internet Protocol) has been around a little longer than most people think. However, it's only in the last few years we have seen an explosion in VoIP use by the general population, thanks to steady technological improvement that has lowered the barriers to entry. Like other business IT tools that came before, VoIP has now transcended that initial stage, to now stand on the verge of changing how businesses – of all sizes – work and collaborate.  In fact, business phone systems that integrate VOIP and standard calling have become economically viable for even small and medium-sized businesses, and we can expect this tech to spread faster than ever.
VoIP in India
Today, VoIP's status as one of the rising stars in communications tech, fueled by a steady uptake in adoption by small and medium sized businesses, is borne out by market research.  In 2013, the India VoIP Market Forecast & Opportunities report predicted a 27% annual rise over the following five years. According to the report, the credit for this mainly goes to better 3G / LTE and broadband coverage. Other factors to the growth of VoIP include government initiatives, higher purchasing power, and the growth in affordable 3G-enabled mobile devices.
According to a report by the Internet and Mobile Association of India (IAMAI) and IMRB International, mobile Internet usage has shot up from 238 million users in June 2015, to 206 million by the end of the year. As mobile Internet usage was expected to grow by over 55 percent (to touch 371 million by June 2016), we can expect greater use of VoIP systems, platforms and applications – on both the enterprise and consumer fronts.
What VOIP could bring to SMB and Enterprise businesses
As seen across the world, the prospect of taking calls anywhere, and anytime, without being restricted to a device or being hampered by the need for expensive infrastructure not only boosts productivity, but drives more businesses to consider VoIP as their primary communications tool. But so far, this flexibility has been missing in the Indian market as customers are restricted to using expensive on-premises setups – which keeps the advantages of VoIP also restricted to enterprise customers with deep pockets.
VoIP has already made great strides in India, but the progress hasn't been as fast as one would have expected. Considering our huge smartphone user base and availability of bandwidth even in Tier II and III cities, we can easily visualise the potential for VOIP usage in India. In fact, VoIP is already used a lot, especially by the consumer market – Skype, Viber, Facetime, WhatsApp are all consumer VoIP applications.
VoIP can change how you do business
From improved collaboration between teams to more efficient customer support, VoIP works as a transparent medium where the message finally gets the importance it deserves – without getting caught up in issues relating to access and networks. 
Imagine no-fuss, easy conference calls with your colleagues across the world, or connecting to popular VoIP services via your fixed line phone (or vice versa), or even the prospect of allowing your sales and support staff to be available for calls wherever they are – without needing specialised telecom infrastructure – and the future may well lead to one packed with rich interactions that will result in more efficient project management, faster closure of leads, quicker resolution of support issues, improved CSAT, and of course, happy employees who are not bound by office boundaries but are focused on solving problems from anywhere! 
And these benefits won't just be restricted to large enterprises. VoIP's inherent nature enables even startups and SMBs to take advantage of VoIP's true capabilities, allowing them to compete in their markets on a level playing field
–    Connect from anywhere as location independence becomes a reality 
–    Connect from any device, whether mobile, web or conventional phones
–    Far more affordable than fixed line operators
–    Redundant networks improve reliability
–    Geographical barriers vanish 
VoIP is the future of telecommunications, whether we talk about the consumer market or the enterprise. In fact, if we are to judge it on the basis of how it enriches human-to-human bonds and how it enables better collaboration, it may very well bring about the biggest change in the Indian unified communication industry.
Source: www.cxotoday.com
Leave a Comment