The must-have products for a Conference Room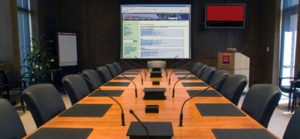 A meeting can consist of a number of chairs around a table and be sufficient. As people work remotely and want to present a greater variety of content from a greater variety of devices, it might be time to refresh your conference room technology to improve the experience.Board rooms are a genuine reflection of the Company, the way things have planned out at the onset of this era, its cultures, its Values and its Vision.
The must-have products for a conference room
1. Display Solutions- A 4K Television
In order for video conferencing and business presentations to work, a large shared screen is absolutely essential. And although they're expensive and still have some issues that haven't been adequately addressed yet, 4K TVs are noticeably better than their 1K counterparts. Even if you don't actually use the TV to play full 4K video, it's always better to have 4K resolution and not need it than to need 4K resolution and not have it.
If you have the money to buy a 4K TV, you probably also have the money to hire a carpenter to mount the TV to the inside of the wall. By doing so, you'll restrict easy access to the HDMI ports at the back, but if you use a wireless presentation solution having easy access to the HDMI ports will not be necessary.
TVs are also installed at the front of the conference room, allowing easier cable management than a projector in the middle of the table or ceiling-mount. TVs have a variety of inputs such as HDMI, DisplayPort, VGA, and others which can allow a number of devices to connect .
2. Audio Solutions-Telephone
For decades, experts have been predicting that video conferencing would render Alexander Graham Bell's 1876 invention obsolete. And yet for some reason, the telephone refuses to go away. Perhaps it's because people are too self-conscious about their appearance, perhaps it's because no one likes the idea of sending large amounts of data through their 4G network. More specifically, you'll need one that can provide clear audio, connect multiple lines at once, and hands-free capabilities (speakerphone and microphone included). The audio conference can take place in a group meeting in a room or by a group widespread across the office or geographically. The room based audio conferencing is done using an audio conferencing device whereas the group widespread audio conferencing can be done using the conferencing bridge available in the pbx.
3. Display Solutions- Projector
If your meetings are usually attended by more than 20 people, a television might not be enough. You may want to consider buying a projector and converting an entire wall into a movie screen. In addition to offering a bigger image, today's conference room projectors provide greater brightness (lumens), operate clearly in both dark and lit rooms, and are small enough to be portable.
4. Audio Solutions- Sound
Sound reinforcement system is the combination of microphones, signal processors, amplifiers, and loudspeakers that makes live or pre-recorded sounds louder and may also distribute those sounds to a larger or more distant audience. Investing in a 4K TV or projector can be counterproductive if you don't also invest in a decent sound system. It's also important to make sure that the people you're video conferencing with are able to hear you, so in addition to buying speakers, you may want to buy a few microphones and install them at various points along the conference room table.
5. Conferencing Solutions- Remote
Adobe Connect, WebEx, and GoToMeeting are popular services for webinars and online meetings. They can allow employees working remotely or guests to connect to your meeting no matter where they are. They can also conveniently connect from computers, tablets, or smartphones. Video Conferencing is also one of the best mediums to conduct meetings among multiple users. It provides comprehensive and powerful visual communications solutions that deliver advanced video, voice and data collaboration.
6. Wireless presentation technology
It enables BYOD, which allows presenters to walk in even with mobile devices like a tablet or a smartphone, and present content seamlessly and wirelessly. Highly intuitive control systems let the presenter get the room lighting, projector and other devices ready with the touch of a single button.
Any investment you make in your company's conference room technology comes down to the people who will be using it. It is important to consider them in your decision-making process.
Leave a Comment