Projectors are becoming one of the fastest growing product lines in India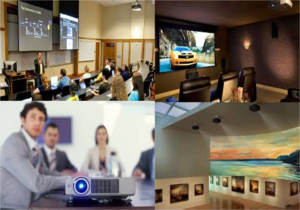 Projectors are one of the fastest growing product lines in India due to the booming education market. Changing lifestyles, decrease in price and rising spending on electronics has led to an upsurge in demand for high-end products including projectors. Various emerging segments such as Education and Audio Video System Integration in commercial segment are booming with demand for projectors. India's education sector is moving towards the digital age. Educational system integrators are thriving in India and helping to cater to the growing requirement of audio-visual equipment
According to "India Projector Market Outlook, 2019", India's projector market was growing with a CAGR of 21.74% by volume over past four years. IT, corporate, media, entertainment, rental, BPO and education sectors were the major industries driving the sales of projectors. The education sector is reportedly the biggest segment of digital projector sales in 2014 followed by mid-size and small business segments. Beyond this, development in the home entertainment and gaming segment is also being scaled up with the arrival of 3D, HD and Wi-Fi support features within current projector models. These days the projection technology is more sought after in homes with spectacular increase in availability of full HD and 3D content in form and availability by HD DTH and Blu Ray discs.
Businesses are looking for office projectors that are optimized for presentation use in conference rooms, boardrooms, and lecture halls. The business projectors category includes the latest technology in DLP, LCD, LCoS projectors.  The category includes projectors from lightweight portables to projectors with 10,000+ lumens. Education projectors include standard portable and fixed installation projectors, also short throw and interactive projectors. If a big screen TV isn't exciting enough, home theater projectors can give a whole new meaning to movies, television programs, or games.  Projectors replace the ordinary TV with a much larger screen, flexibility to be moved around, and high-quality images. Originally, these systems were only available for commercial entertainment or business uses, but now it is becoming more affordable for the average household, making it possible for everyone to enjoy a true cinema experience in the comfort of their own home. In addition, the cost per image area with a projector is actually much lower than the cost of a traditional TV. Companies, such as Epson, Acer, and Viewsonic, manufacture multimedia projector systems that can be used to create a full HD home theatre.
The technology used in projectors can generally be broken down into two types: DLP and LCD. DLP (Digital Light Processing) projectors use mirrors to project their images. They shine the light onto a chip with microscopic mirrors called the digital micro mirror device. Each mirror is one pixel of the projected image. That light is then reflected off of the mirrors and through the projector lens. The DLP is the most affordable type and still delivers high quality images. LCD projectors pass light through three LCD panels that are red, blue, or green. During this time, the pixels can either allow light through or be closed off. The combination of open and closed pixels produces a wide range of colors projected as the moving image. LCD is the major technology used in modern projectors. Because of the advanced technology they use, LCDs are more expensive than the DLPs.
Both the technologies LCD and DLP have an almost equal market share in 2014 with DLP technology slightly ahead. However, in future the trend is expected to reverse with LCD technology to dominate the market heavily. Moreover, the market will continue its shift towards new technologies like Lazor Interactive/LED Interactive Android due to the low maintenance cost and superior technology. High-Definition (HD) projectors are replacing the Standard-Definition (SD) projectors due to increasing popularity among consumers.
Out of the total shipment, almost one-third market is captured by 1024×768 display resolutions, followed by 800×800 resolutions. Higher resolution projectors are less likely to require signal compression and its associated loss in quality. Hence, High-Definition will be the most popular display resolution in future with highest market share by 2019. In this crowded market, BenQ is the No. 1 brand in India followed by Epson, InFocus, Hitachi, Panasonic and many others. The metro markets dominate the consumption but new demand is expected from tier II and tier III cities with rapid urbanization of these towns. The vendors are targeting more than 30 Indian towns beyond the top eight metropolitan centers for projectors.
Leave a Comment