Portable battery charger by Anker can charge your phone up to 40 days!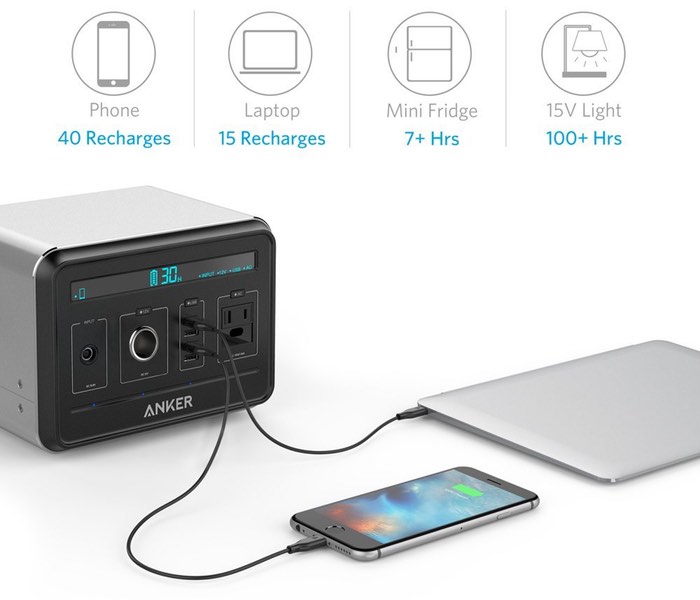 How much power does your Smartphone support through the day?On an average it provides around 2500 mAh (Milliampere hour) of power. Anker may have a solution for this scenario. The company best known for its pocket-sized lithium-polymer batteries has released  120,600 mAh power supply aptly named the Powerhouse. The company launched the machine on April 18, and it definitely has more uses than a mere phone charger with its multi-charging ability.
The Powerhouse has a host of connections which includes 12V (Volt) car charger slot, four 2.4A USB ports, a 16.8V power input space and an 110V standard AC plug. The power bank can be recharged in 10 hours using the kit charger and in 16 hours in future with a solar charger that is yet to be released. The LCD panel at the helm displays which ports are switched on, along with an accurate prediction of how much time remains for the machine to tap out. It also includes temperature and voltage safety controls as well as an internal surge protection that prevents the machine from turning into a heat-induced bomb.
It measures 7.9″ x 6.5″ x 5.7″, and it weighs in at 9.3lbs. It will probably come in handy if you are in the areas where running electricity isn't reliable or readily available. The Powerhouse is said to be able to charge a Smartphone 40 times before being depleted. Alternatively it can also charge laptops, mini fridges, or even power a 15V light bulb for more than 100 hours. Currently it is selling the device through Amazon.
Leave a Comment