Digital Signage for effective retail marketing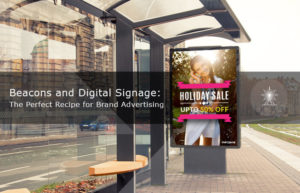 Digital signage solutions are being exploited by most business owners today to give them an edge over their competitors. There are many different benefits digital signage will have on your business, which can help you become more successful within your industry. Digital Signage is made up of a variety of technologies used to replace traditional print and other media in the retail environment in a visually dynamic form..
The importance of creating customer experiences in the retail environment is well-documented and has been proven to influence consumer decision-making at the point of sale, as well as helping to enforce branding and enriching the overall shopping experience. Today, more and more retailers are beginning to recognise and reap the benefits of using digital displays and bespoke in-store music as part of their branding and customer shopping experience. It allows shoppers to visually interact with the brand's products or promotions whilst still in the store environment, where actual purchasing decisions can be made.
Here are 4 ways in which digital signage can be used in-store for effective retail marketing:
In-Store Digital Advertising
Advertiser driven digital signage networks allows advertisers to buy airtime in order to inform customers about their products and services and in turn drive more sales at the point of decision. The placement, size of commercial screen, type of content and other circumstances in store can vary quite a bit, but the most successful networks are always treated as any other in-store medium. That is to say, digital signage is like any other form of point-of-purchase advertising that can be bought by marketers and used to the reach customers on the sales floor.
In-Store Digital Signage and Music
Retailers can utilise effective retail digital signage to promote their products, brands and services to their customers and also attract potential customers with strategically placed screens in storefront windows. In-store music has also added to the customers' shopping experience and when these powerful channels are integrated, a retailer can efficiently deliver their marketing message visually and audibly to the customer right at point of purchase. The X2O Media Platform, now available in South Africa, enables users to communicate key messages in real time to target consumers via a range of digital devices– all from one solution.
Employee Training and Skills Management
Digital Signage has been successfully used to display employee training videos, health & safety and other corporate messages before and after trading hours. Employee training can be further enhanced to include Training on Demand (TOD), which allows training videos to be played at times set by the individual store management and it allows for the videos to be paused, rewound, forwarded and stopped. TOD is a revolutionary bolt-on product that allows enables effective training of staff whilst having a huge cost savings for any distributed company.
Touch Screen Kiosks
Self-service touch screen kiosks have been around for a long time, but as newer applications are being adopted by retailers, there has been a new resurgence of the technology. The new cutting-edge technology includes additional functionality, such as: self-service credit applications in-store, interactive product information and guided selling, wayfinding systems, product locators and price checking units, loyalty programmes and customer satisfaction.
The effect of the visually appealing display gives retailers the opportunity to improve their customers' shopping experience, make each employee more productive, reduce the load on customer service staff and, if possible, offer a supplementary form of income
Leave a Comment