Chinese Long March 3B launches first mobile Telecom Satellite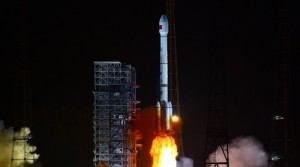 China successfully launched the first satellite for mobile telecommunication named Tiantong-01 satellite. Launched at 00:22 am local time on 6th August at south-western China's Xichang Satellite Launch Centre with the Long March-3B carrier rocket, it is surely going to bring a revolution in telecom industry.
Tiantong-01 was designed by China Academy of Space Technology and its ground service will be operated by China Telecom. The Long March-3B carrier rocket was produced by China Academy of Launch Vehicle Technology. It was the 232nd flight of the Long March series carrier rockets, and the 36th launch of the Long March-3B.  The three-stage Long March 3B rocket is currently the most powerful Chinese booster in service. Tiantong-01 will establish a mobile network with ground facilities, providing services for China, the Middle East, Africa and other areas. It is the first satellite of China's home-made satellite mobile telecom system, and a key part of the country's space information infrastructure. More geostationary satellites will be sent into orbit for the system. Development of the project began following a devastating 8.0 magnitude earthquake in Wenchuan in 2008, as part of efforts to ensure communications networks remain operational when disaster strikes. The project is also aimed at providing services in hard to reach areas such as oil rigs, mountains and deep forests.
The country is also preparing for the next round of its manned space mission. They also plan to carry a second module for the space mission replacing Tiangong 1 and a staffed spacecraft called Shenzou-11. China sent its first astronaut into space in 2003, and since then has taken huge advancements. According to a report, more satellites will be added to the communications network in future as demand grows.
Leave a Comment