A look at what business telephone providers have offer to your business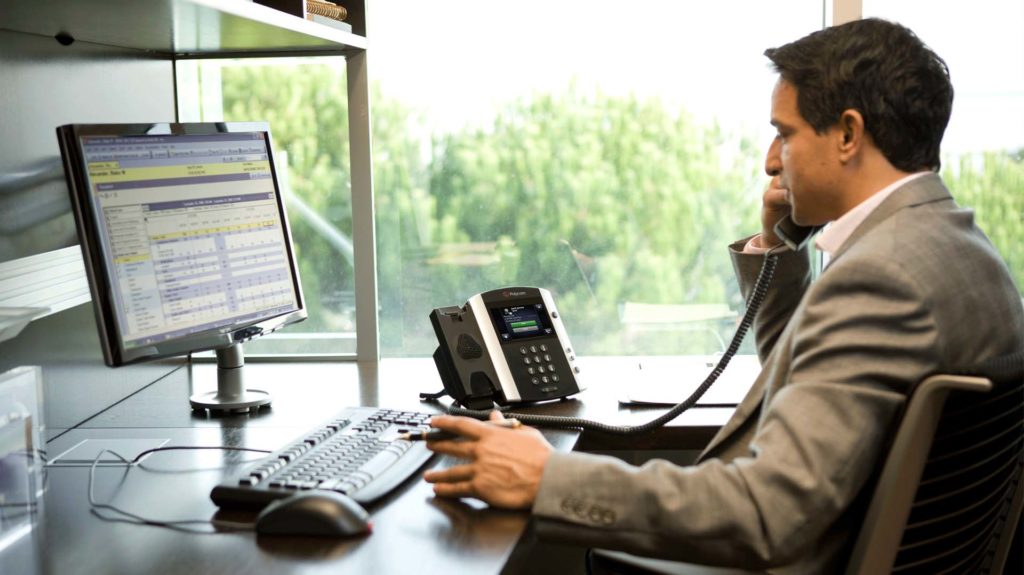 Business telephone providers have a range of products and services that can significantly improve the operation of your small business.
Outside of their initial offering of helping you call customers, clients, and suppliers, business telephone providers can provide a range of specialist services – often very specific to your needs as a business owner.
Not just issuing physical handsets, software and accessories, a good phone provider will also manage the installation setup process – while offering valuable expertise and experience throughout the duration of your contract.
Understanding what your business telephone service provider includes is important. Do they offer packages? Do they have specific plans suitable to your business? Can they provide equipment and services that match your needs?
Business phone services
Once you've worked out what type of calls you likely be making, how often this will be, and where your phone will be located, you can start considering what business phone services will best suit you.
Landline:Very self-explanatory, if your business chooses to solely use a landline for its calls, you'll gain all the features you have on your home phone, but nothing more. Most home phones will allow you to make multiple calls at once, via the help of cloud-based conference call software. However, most providers will bill these as separate calls, so you'll most likely incur high charges – particularly if some recipients are overseas.
Business mobiles:Commonly referred to by business owners as their 'work phone', a business mobile is a regular mobile phone – but with all bills paid for by the business. An obvious benefit, particularly for a small firm, is that the phone can passed around between employees as and when they need it – and used outside of the office.
Multi-line system:Also referred to as switchboard systems, multi-line systems allow you to condense multiple phone lines into a single device – allowing you make, receive and transfer multiple calls from a single desk. Very user-friendly, multi-line phone systems operate in the same way landlines do.
Sip Trunk phones:Standing for session initiation protocol, Sip trunk phones allow you to make calls using your internet connection. Containing elements of VoIP, which we explain below, a SIP trunk connects your business to an internet telephony service provider (ITSP) and allows you to make multiple calls at once in a very cost-effective manner.
VoIP phones:Once again, using your business's internet connection to host calls rather than through traditional analog signals VoIP allows for both video and voice chat. A big benefit for businesses: calls are essentially free, even international ones, once your broadband or mobile data plans are paid for. Furthermore, VoIP can allow you to make calls to remote staff members via their notebook PCs or tablet. However, initial setup for VoIP can be expensive and calls to other businesses are only free if you're both using the same provider.
Business phone services and features
Business phones require and offer a range of features to help your staff operate as effectively as possible. In the table below, you can find out a little bit about some of the features you might have included with your business phone system.
Automated call forwarding – Automatically transfer calls to your business phone to a different number at any location. Can be very useful if you are expecting an important call to your business but are out of the office or even on holidays.
Conferencing – Use conference calls to speak to people off-site, without issue. Conference calls can be popular for team meetings with off-site staff members or for calls between your sales team and relevant clients.
Automated attendant – Also known as a virtual receptionist, an automated attendant allows callers to be automatically transferred to an extension without the intervention of an operator – while also informing callers of how long they can expect to wait until their call is answered, what hours you are open for business, or even directions to your office.
Dashboard – A dashboard allows you to manage your office phone system from one unified interface or programme, with access for all staff, dependant on what their needs are. Some dashboards also allow you to integrate all your communication channels, so you have control over your voicemails, emails, SMS and fax messages at one touch point.
Voice to email – Converting voicemails into a readable email that gets sent straight to your inbox, this feature allows you to sort and scan through missed calls and voicemails at a quicker rate than simply listening to each message individually
Call logging – Helps you to collect and correlate information from all the calls you receive or make, known as meta-data, which you can then use to help fine-tune customer services, anticipate consumer demand during certain periods, or evaluate various sections of your business
Hunt group – Much like the automated call forwarding feature, in a hunt group, inbound calls are configured so that a group of local extensions ring in unison. Should no one answer from this group, the call is quickly routed to the next free extension until the call is answered. This feature is particularly useful for when you're waiting on important sales or customer service enquiries or even a client call
Call barring – A standard feature, even on most household appliances, call barring allows you to block numbers from being dialled – as well as blocking numbers from calling you. A good use of this feature might be to block cold calling businesses who are continuously pestering you
Auto dialler – Popular with telemarketers and call centres, auto dialers are used to call multiple numbers at much. Normally this is accompanied by an automated voice which will give the receiver various options to select. If the receiver agrees to press a suggested number, they will normally be then put through to an actual sales or customer service rep.
Headset-enabled – Allowing you work hands-free, provided you have an appropriate headset, headset-enabled phones are a must for sales staff or those in customer services
Microphone muting – Important in a number of situations, muting your microphone so the person on the other end can't hear you can allow you to delegate in private during a conference call.
Hold music –Although a source of irritation for many consumers, studies actually show that when a customer is put on hold, they are less likely to hang up if they are greeted by music rather than silence. For this reason, many businesses choose to play 'hold music'.
Though many people do not know it, there are three variations of the phone line that a business phone provider can offer.
POTS (Plain Old Telephone System) lines– Sometimes referred to as the Public Switched Telephone Network (PSTN), these traditional analogue lines let users make or receive one call at a time and provide very basic features such as caller ID and call diversion. Less common in business environments, this option is the same as those used in houses before the introduction of more advanced lines such as a DLS line.
ISDN2– Integrated Services Digital Network (ISDN) lines allow for two channels to be used at the same time and also allows for data and voice to be transmitted simultaneously. Sometimes referred to as Basic Rate Interface (BRI), ISDN2 lines generally offer higher quality than POTS.
ISDN30– ISDN30 lines have eight channels available through a single cable, significantly improving on both options above. ISDN30 lines offer higher quality than POTS and also help businesses to save space by reducing the number of lines required in total.
SIP/VoIP– As mentioned above, SIP stands for Session Initiation Protocol and is the line type for connecting Voice Over Internet Protocol (VoIP) to a phone system – allowing video and voice calls to be made over the internet.
Business phone lines, while often overlooked in lieu of the hardware, handsets and accessories are integral and essential in any telephone system. Understanding what your business needs, and what providers can offer, is incredibly important.
Leave a Comment