What would be the future of Video Conferencing?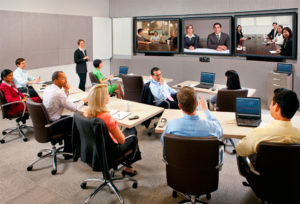 What will video and team collaboration look like in the next three years? Could there be a solution like the IP-PBX systems versus UCaaS option, where companies can access a comfortable "hybrid" zone, that will reduce the financial impact of transformation? Or, are we simply going to have to make do with what we're given?
The Video conferencing market over the next three years is going to see some big changes. One of the key questions that companies are asking today is: "What will enterprise visual collaboration tools and solutions look like in the future?" Video technology is getting better, DSPs are cheaper and far more flexible and capable, offering more features than ever before. Huddle rooms are the new conference room. Less about traditional conferencing, more about collaboration That's why Microsoft are investing heavily Skype Room systems, Cisco with the Spark Board and Google with the Jam Board.
As solutions continue to evolve in the communication and collaboration space, opportunities simply keep getting better. As AI and Chatbots are quickly becoming part of UC solutions, meetings will be hosted by virtual assistants (BOTs) and contextual and cognitive communications will continue to make meetings more productive and efficient for everyone involved.
With so many people using mobile technology over laptops or desktop computers, it is all the more important to find a platform that is compatible with mobile devices. Using the software on a mobile device then being able to arrive at home or at the office and continue using the program and doing the same work makes work days flow much more smoothly and increases productivity.
The migration to cloud based meetings isn't going to be straight forward for a lot of enterprises. If you want to be able to offer a flexible cloud based video conferencing system for your business then you'll need a cloud based video gateway service which will have a cloud hosted codec converter for connecting virtually any video codec together e.g. ISDN, SIP, WebRTC, etc. Not only does this allow virtually any company to connect in with their choice of meeting room system, it also allows users on mobiles or laptops to connect up with their choice of app.
The most important feature in any video conference system is security. Because you will be reaching so many people from across the world and sometimes sharing sensitive information, programs with high levels of security and virus protection are essential. There have been many reports in the media of private conversations being hacked and confidential information being leaked to the press and public.
New clients and colleagues, some of which will still be unfamiliar with using conferencing software, will want to feel assured that your meetings are safe and secure with no chance of hacking. If the interface uses cloud based storage, you will also need to ensure that is secured fully too. You can check this by looking for the security features page of the company's website, or consulting with their customer support. The more they can tell you about their software's security features, the better the indication that they will keep your data secure.
Taking the step into the collaboration and conferencing networks of the future might not be as simple as most companies would hope. Cloud solutions are incredibly attractive because they allow people to mix and match services as they need them. When it comes to interoperability, people need to be able to join or create mixed protocol video conferencing calls without the expense of managing an infrastructure.
Leave a Comment