What will video and team collaboration look like in the next three years?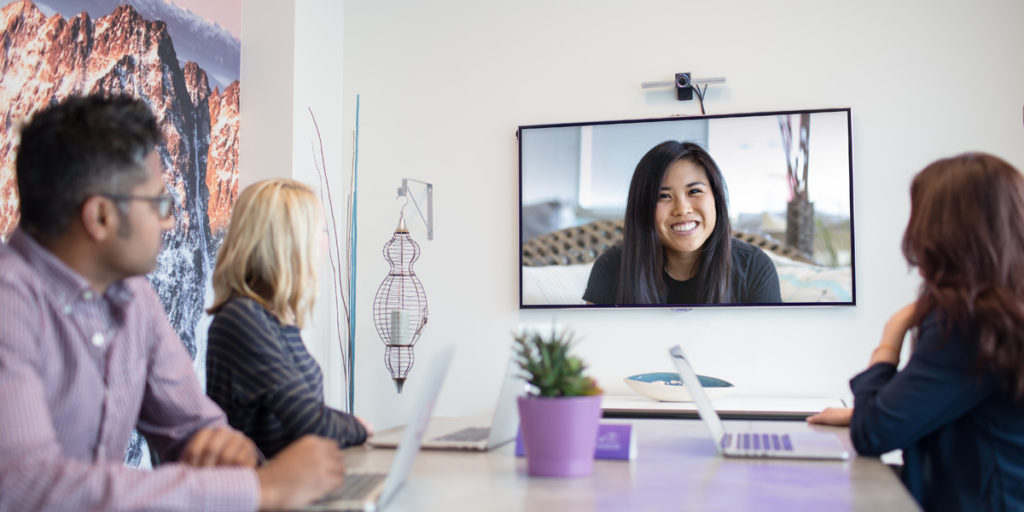 Could there be a solution like the IP-PBX systems versus UCaaS option, where companies can access a comfortable "hybrid" zone that will reduce the financial impact of transformation? Or, are we simply going to have to make do with what we're given?
Market Trends
BYOC – Bring your own codec is on the rise
Huddle Room technology is on the rise
Deployments are moving to the cloud
Traditional hardware based room systems will decline
1/3 of knowledge workers are now millennials
Teams are the knowledge workers of tomorrow
The Evolution of Video Conferencing Technology
The Video conferencing market over the next three years is going to see some big changes. Whilst video conferencing revenues are flat, if not in decline amongst the big vendors, video calls are still experiencing exponential growth.
Mobile video is also growing rapidly, mostly originating from the cloud. Apps like Microsoft Skype for Business leading the way in the corporate world. It seems that it's less about the hardware you need in business but more about the software based apps, at least for peer to peer video calls (one to one). However, hardware by no means is dead, it's just going to look a little different going forward.
The commoditisation of VCaaS appears to be an inevitable part of video's future. That's why the company put together their own SMB bundles for customers who wanted to purchase simple Gateway services, "off the peg". Today, customers can buy solutions straight from eCommerce website in a self-service solution.
Introducing the Huddle Room Boom
One of the key questions that companies are asking today is: "What will enterprise visual collaboration tools and solutions look like in the future?" Video technology is getting better; DSPs are cheaper and far more flexible and capable, offering more features than ever before. Huddle rooms are the new conference room. Less about traditional conferencing, more about collaboration That's why Microsoft are investing heavily Skype Room systems, Cisco with the Spark Board and Google with the Jam Board.
Today's VARs have an unparalleled opportunity to monetize these solutions by selling hardware alongside VC platforms. In other words, VARs can give their customers a bundled package of everything that they need for excellent collaboration. As solutions continue to evolve in the communication and collaboration space, opportunities simply keep getting better.
The Rise of Bring your Own Codec (BYOC)
The migration to cloud based meetings isn't going to be straight forward for a lot of enterprises. How do your users connect their shiny new Skype for Business app to your largest customer's ISDN based Polycom conferencing system? How do you host a virtual meeting room (VMR) for 20 people and not have to worry what equipment or software they are using?
Introducing the solution to 'BYOC'. If you want to be able to offer a flexible cloud based video conferencing system for your business then you'll need a cloud based video gateway service. Many companies have  developed a cloud hosted codec converter for connecting virtually any video codec together e.g. ISDN, SIP, WebRTC, etc. Not only does this allow virtually any company to connect in with their choice of meeting room system, it also allows users on mobiles or laptops to connect up with their choice of app.
 Migrating into the Future
Taking the step into the collaboration and conferencing networks of the future might not be as simple as most companies would hope. Cloud solutions are incredibly attractive because they allow people to mix and match services as they need them. When it comes to interoperability, people need to be able to join or create mixed protocol video conferencing calls without the expense of managing an infrastructure.
The cloud, and related solutions, allows businesses to use systems like Microsoft Skype for Business to create video calls without the hassle. Using a cloud provider means minimising the amount of work a business has to do to stay ahead of the industry curve. In cloud environments, it's the provider that needs to stay up-to-date, not the customer. This makes the disruption of forklift upgrades more unlikely.
source:https://www.commstrader.com/news/focus/video-2020-future-video-conferencing/
Leave a Comment