How is Video Wall transforming Hotel guest experience?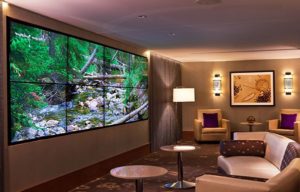 Hotel lobbies are high-traffic areas where people gather and wait. Video Walls can help resorts and hotels connect and communicate with their guests by highlighting in-facility amenities and services, along with the availability and schedules of local activities, events and eateries. However, individual displays, may no longer generate a great impact. Large Individual displays are an expected part of a hotel room, but they easily get lost in the greatness of a hotel lobby, and might fail to engage guests glued to their smartphones.
The answer for the hospitality industry is video walls — a visually compelling solution that captures attention in both large and small public spaces, and can be a key starting point for long-term digital engagement with customers.
A video wall can be a unique piece of art that would definitely grab the attention of the guests. Whether used to promote the hotel brand, set a tone for the space, promote local attractions or for revenue-generating advertisements, it is a valuable investment that will bring returns in terms of perceived brand value from day one.
Design and uniqueness are often key factors for hotels, with extra effort put in to ensure guests get a great first impression. Video walls can be as unique and distinctive as customers want them to be. There are video wall solutions that give customers the flexibility to deploy either traditional, grid or artistic, mosaic-style video walls, with angled displays for a creative, non-traditional layout — ideal for hotels that are out of the ordinary.
Another great use of a video wall in a hotel is to inform guests about events happening either on site or nearby, as well as to promote local tourism and advertise businesses. They can also help to engage with guests on social media, either by inviting them to share their experience or displaying feeds directly on the wall.
Factors to consider when installing a video wall
A video wall is meant to complement the space while visually engaging the audience. Careful planning is important.
First, consider the area that will be featured. The space and surroundings will determine the size of the video wall. If you are doing anything other than the basics, you'll want to invest in a video wall controller. There are now cost effective options for video wall controllers that use PC and network architecture to lower the overall costs.
The second thing to consider is the type of video wall that will best suit the space. Options include something that stands out such as an artistic, mosaic-style video wall, or a more classic, traditional grid video wall (with typical aspect ratios), where streamlined, third-party content plays a key part.
Unless it's part of a new build or major renovation, you'll need to consider how to get power and data connectivity to the displays. Most of what's needed to drive your video wall (e.g., the video wall controller) can be located in the server room. However you do need power and data connectivity for the displays. Besides the actual displays, video walls require mounts to secure them to the wall and cabling.
Leave a Comment